The sun is shining and momentum is picking up in the market. Everything is heating up! Let's dive into what's happening right now in early April and what happened in March.
Key Developments
Inventory is still very low, compared to Q1 2022
Bank of Canada (BoC) held the policy interest rate at 4.5% again in April
Next Bank of Canada interest rate meeting isn't until June 7th which means we'll have no rate changes for the majority of the Spring market
CPI inflation currently sits at 5.2% down from 5.9% in January. The next inflation report is on April 21st for Marches inflation data
Aimee's Experience
While we did see a ~30% increase in New Listings in Toronto during March, the quality still hasn't been where I was hoping it would be by this point. That lack of inventory continues to see demand outweighing supply.
This is probably playing into what I've seen in the last week of March and first 2 weeks of April– a resurgence of what I'll call more "emotionally" driven buyers. What do I mean by that?
As I mentioned last month I've been manually tracking offer nights across like the crazy person I am (I tracked 99 in March) and I've started to see some pretty large spreads in list price to sale price reminiscent of pre-pandemic and early 2022.
We're talking about quality semi's priced around $1,000,000 that receive 6+ offers and go $300k-$450k over ask. At those price points, and given the state of the market leading into 2023 those are big jumps for a logical person to wrap their head around. That's why I say "emotionally" driven buyers.
I'm not saying these homes are not worth what people are paying for them, I'm just saying that in the last half of 2022 buyers would have scoffed at offering that much more over list, even if it was was fair market value.
Here are some examples of the kind of spreads I'm talking about that were not happening just a few months ago:
One of my recent listings priced in the $2,000,000 range received 18 offers and went $600k over list.
Two listings priced at around $3,200,000 got 4 and 5 offers respectively and both went $600k over list
Another detached priced around $2,300,000 got 15 offers and went $600k over list
Again, this doesn't mean someone overpaid for these homes. They're probably worth what was paid, but no agent worth their salt would have listed that low a few months ago, because buyer mentality was completely different!
Based on my first hand experience, as both a part of and observer of these offer nights, I was surprised to see only a 1.2% increase in prices from February to March when we look at all of TRREB, but even more so when I saw that average sale price in Toronto dropped 1.55%.
Unfortunately TRREB data is a lagging indicator since we're always looking at the previous month. This market moves fast, and you can really only know what's happening when you work in it every day like I do, and I am telling you it is getting very competitive out there.
That said, let's look at the TRREB stats to see why competition is increasing.
March TRREB Stats
Average Sale Prices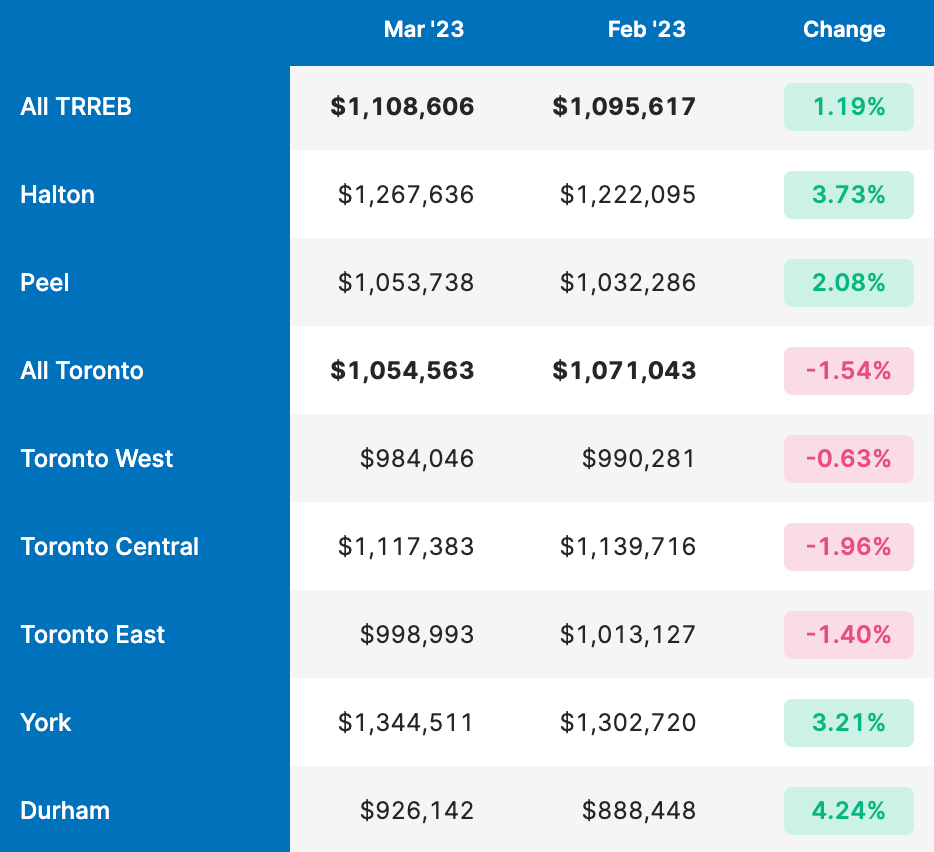 Average sale prices across TRREB are up 1.2%. This is more reasonable growth than early 2022 when month-over-month gains were closer 8%. Especially given the level of competition I'm seeing this is a good thing (ie. people paying well over asking aren't paying way over market value just to get the house. Their using the right comps and coming to reasonable conclusions about fair market value).
Sales and New Listings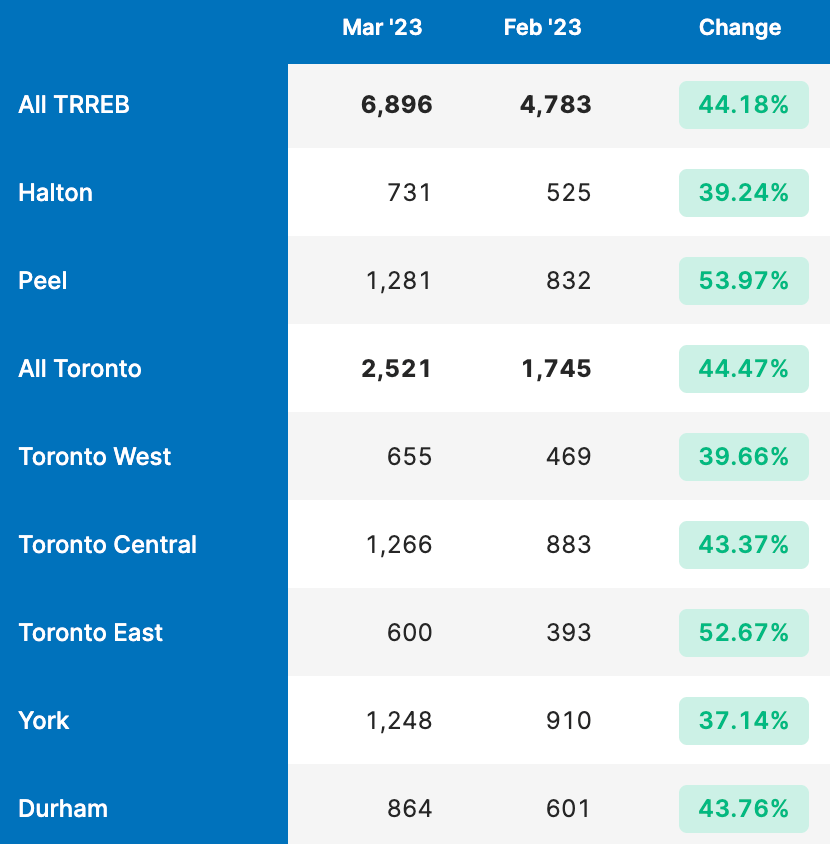 Wow, sales are up 44% from last month! Well, that number is deceiving…let's look at 2022.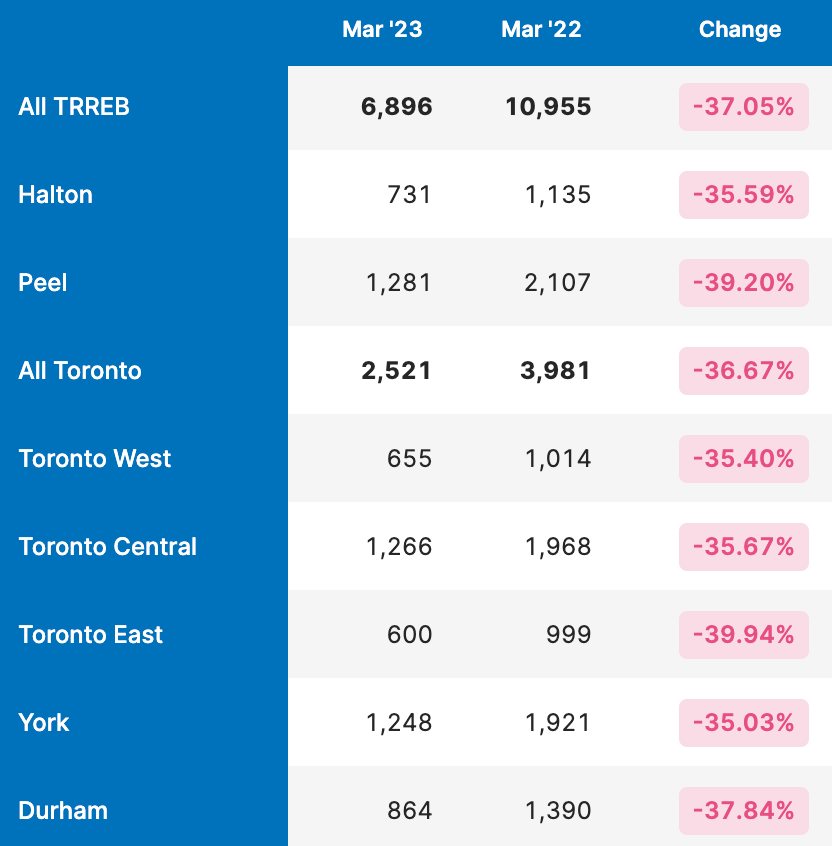 ~7,000 sales this March compared to ~11,000 in March 2022 compared to this year. That's 37% less. In fact, this is the lowest amount of Sales in March since 2009 during the financial crisis. You might think less sales means less competition, but when you factor in New Listings it paints a different picture.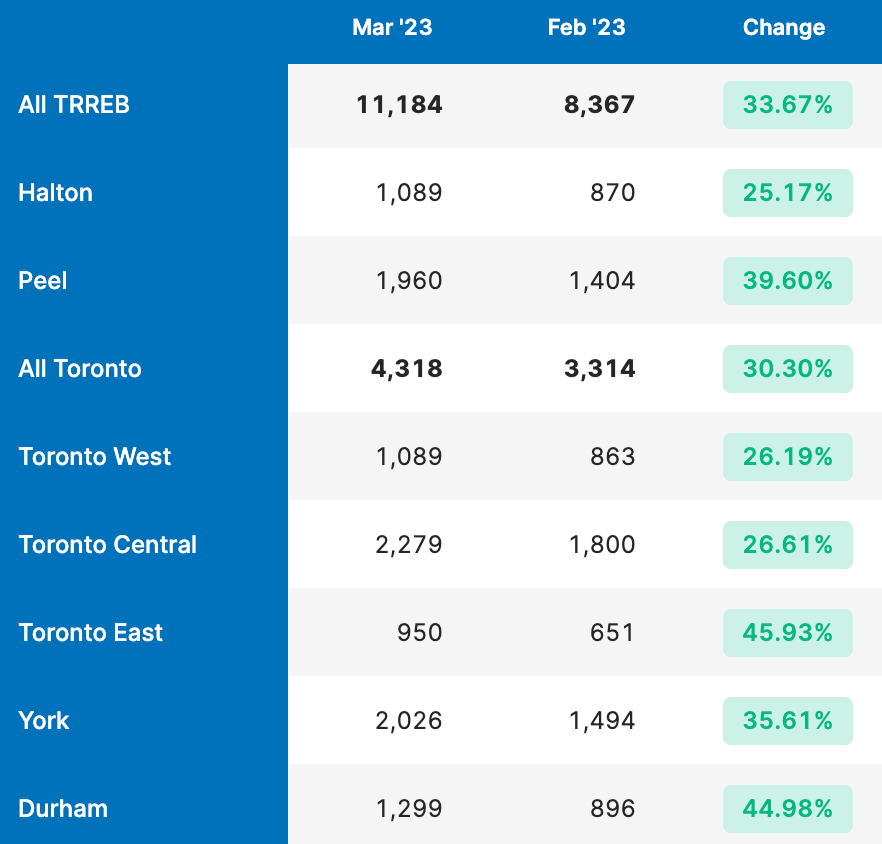 Yes, there was a 33% increase in New Listings from last month, but let's compare that to last year.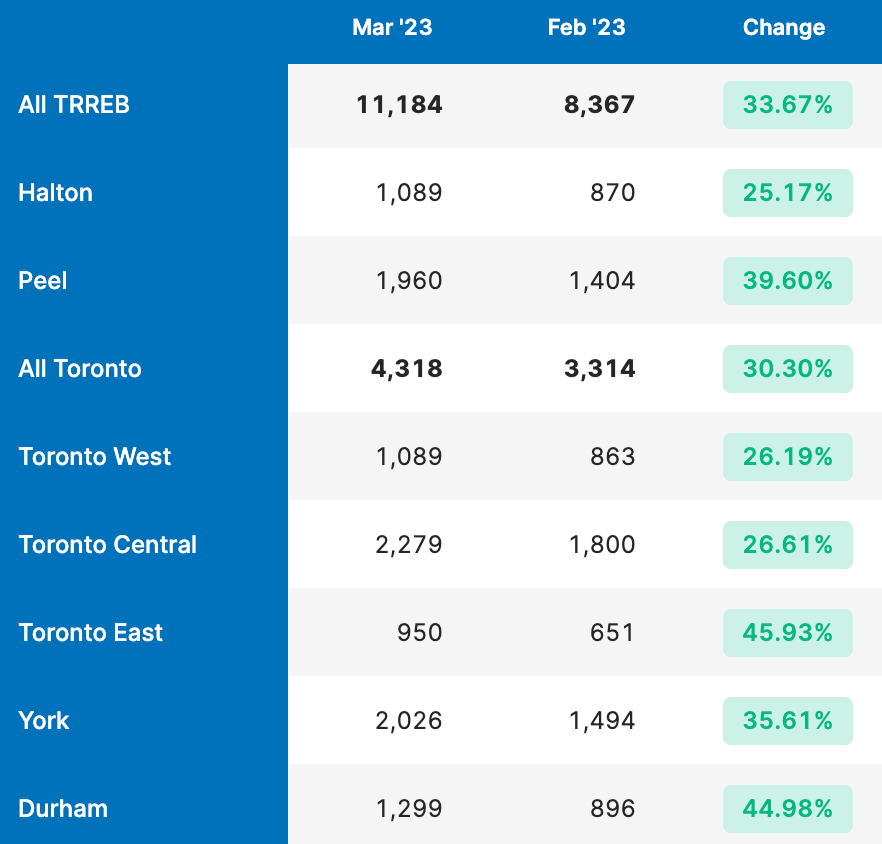 44% less new inventory than last year (almost 9,000 less listings). In fact, this March 2023 had the lowest amount of New Listings hit the market since 2002!
According to the 2001 census, Toronto had a population of just under 2.5 million. In 2021 that number was closer to 2.8 million.
So we have 300,000 more people in the city than two decades ago, but roughly the same amount of supply. That is where the competition is coming from. There isn't anything to buy!
Final Thoughts
One thing I want to mention, before I wrap up is that most of the competition and busy offer nights I'm seeing out there are for Freehold (semi-detached and detached) homes. The Condo market is kind of weird right now and offer nights are a little unpredictable even for quality units.
I would assume that with the tight market conditions, and low inventory some buyers may be forced to start looking at Condos over Freehold, but only time will tell.
Alright, it's 25 degrees out, and I have a rare afternoon clear of appointments. It's time to soak up some sun 🙂
As always if you have more specific questions, need advice, or want to talk about what I'm seeing out there, get in touch. I'm always happy to talk shop!