What's the statute of limitations on saying Happy New Year?…
Well, with a new year comes a new Toronto Real Estate Market! As I mentioned before the holidays, I would skip my monthly update in early January since generally the holidays are pretty quiet (and this year was no different).
Now that we have a few weeks of the year under our belt, we can start talking shop again.
Key Developments
Record-low new inventory and transactions, January felt very slow
January was the 2nd lowest amount of sales in the month of January since 2002 (3,100). The lowest was in 2009 (2,670) and the highest was in 2021 (6,298). More on this later
Bank of Canada (BoC) raised interest rates 25 basis points. We now sit at 4.5%
Bank of Canada Governor says we will be pausing interest rates for now. But won't be cutting them soon.
Next Bank of Canada interest rate meeting is on March 8th
CPI inflation currently sits at 6.3%. Next inflation report is on February 21st
Aimee's Experience
In the run up of the GTA market pre-Covid and during Covid, a common pricing strategy was to list low to attract multiple offers and bidding wars. Once the market took a hit in Spring/Summer 2022, this strategy just wasn't working well anymore. In many cases, Seller's were lucky to get one offer on offer night.
During this period, there was a shift in pricing strategy where Sellers began to list their homes at a price they were actually willing to take (whether that was fair market value is debatable), and allowing Buyers to present offers at any time rather than hold an offer night.
Offer Nights with multiples…but not like before
In the last few months of 2022, I started to see an uptick again in offer nights. In January and February 2023 this strategy has been far more successful in the West End where there's far less inventory vs the East End where there is a lot more inventory, and at lower price points.
Offer nights on Condos have been extremely slow. If you didn't list in the first 3 weeks of January, you kind of missed the boat. Things have really tapered off in the last 2 weeks, and Buyers don't seem to want to compete in multiples for these properties.
The primary locations where I'm seeing the list low and host an offer night strategy work well is in the West End, and outside of Toronto such as Durham where I'm consistently seeing double-digit multiple offers (as high as 23). While the West End may not have the same high traffic on offer nights, both of these locations have very low inventory. And when I say low, I mean almost nothing. Supply and demand is playing a lead role here.
With the exception of a handful of sales, multiple offers in the current market aren't equating to crazy high, unpredictable sales prices, as they were in January – March 2022 (or the last few years for that matter). I'm consistently able to pinpoint a tight range of what a home should and will sell for, based on comparable sales and market intuition, even when in multiples (whereas last year, sale prices were based on who had the deepest pockets and new records were being set every day).
February…so far
I'm seeing a small uptick in the number of listings, with the biggest shift being in the West End. In the last week and a half to two weeks I've seen more inventory hit and, for the most part they're selling extremely quickly with bully offers or very strong offers on offer night.
In the East end in places like Leslieville, I'm seeing far less properties fetching multiples.
I suspect we'll have to wait until after March Break before we see a sizeable influx of new listings to curb demand – April will be a very telling month.
January TRREB Stats
The trend for the last few months of 2022 was slow sales, low quality inventory and a few months of stabilization in average selling price.
January saw REALLY slow sales due to continued low quality inventory, and average sale prices year-over-year were down significantly (which was expected)
Average Sale Price (All Property Types, January 2023 vs January 2022)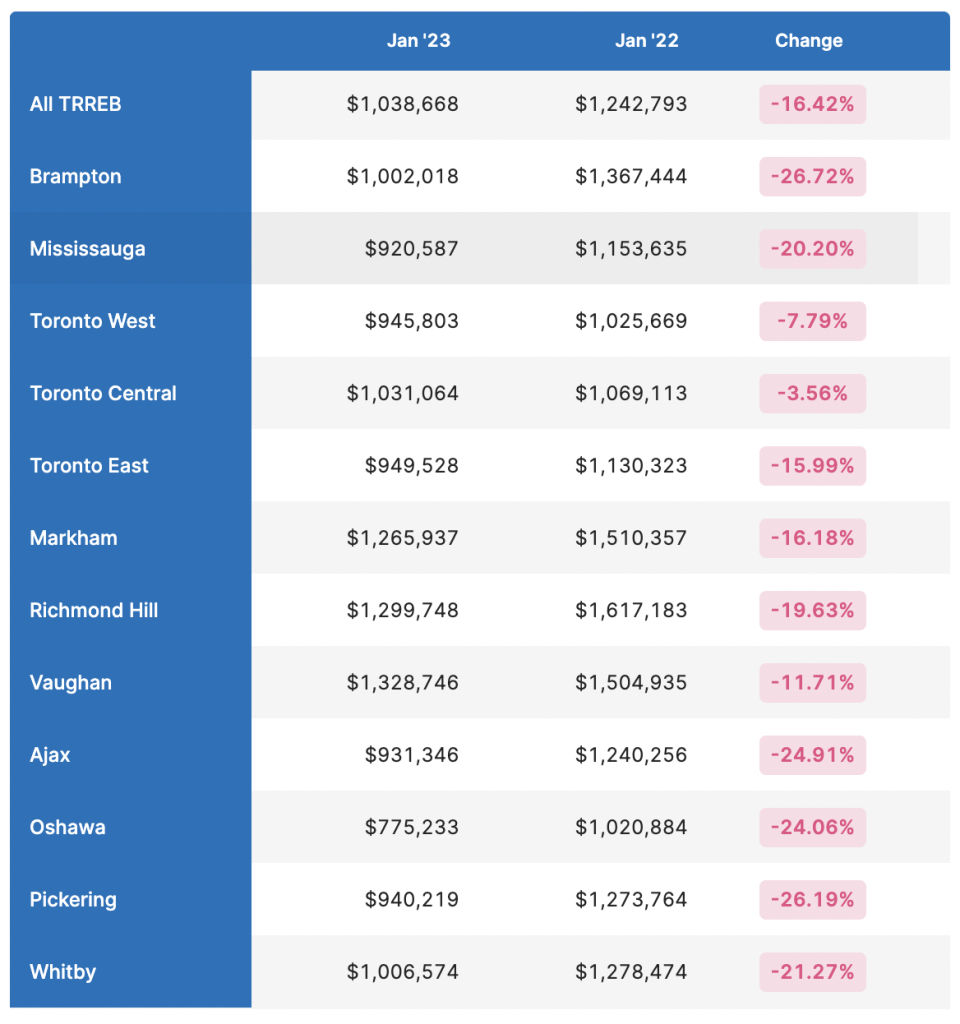 Most of that damage was done before the summer. I'm sure February's year-over-year prices will look even worse considering February 2022 was nearing the peak of the market.
At this point, year-over-year prices aren't going to tell us anything we don't already know. To understand where we might be headed we have to look at month-over-month (MoM) stats.
Prices are down slightly month-over-month…

~1.2% across TRREB if we look at all property types, and all TRREB regions combined.
But if we break this down by region, we actually see a month-over-month increase in most areas. Look at Toronto and Halton in the table below. It seems as if they are responsible for pulling TRREB overall average sale price into the negative.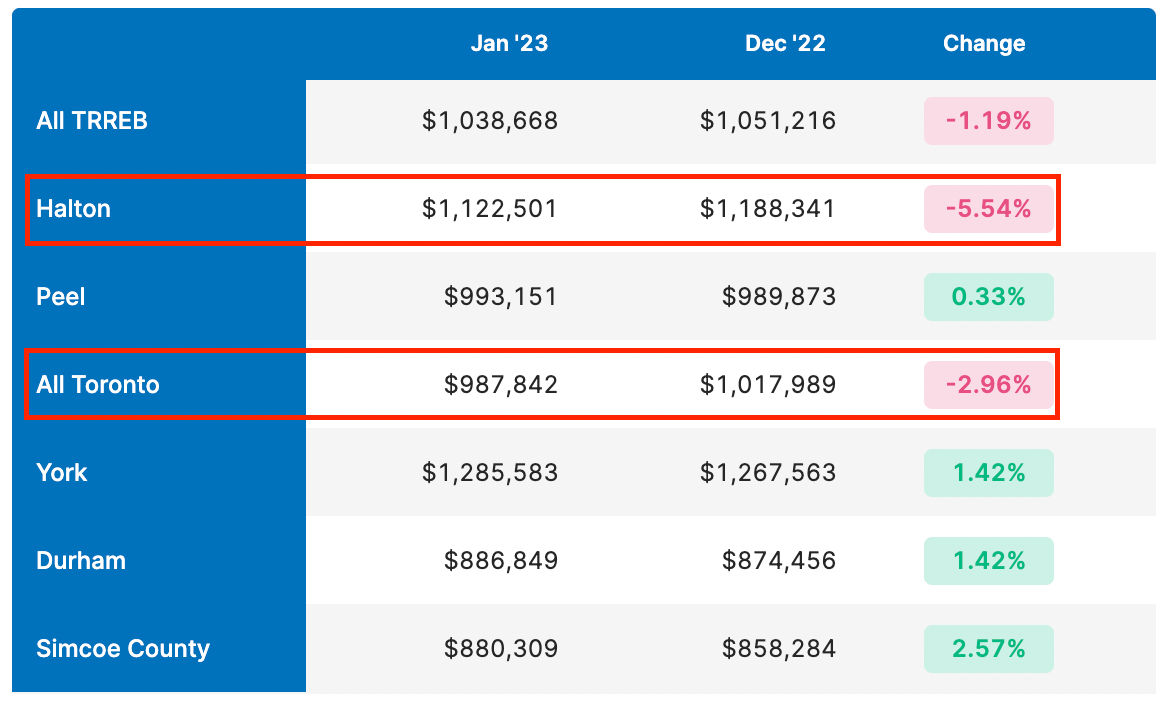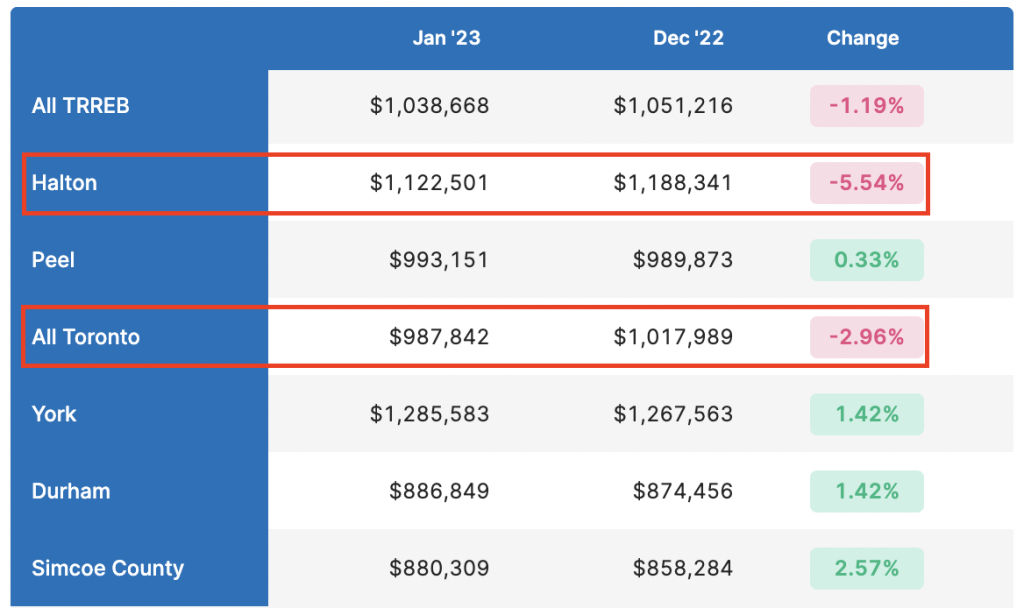 This was kind of surprising to me based on what I'm seeing on the ground. I can't speak for Halton since I don't work out in the Hamilton area, but in Toronto, I've seen some reasonably strong sale prices in January – in comparison to the fall of 2022.
So what gives?
Based on my own experience searching for properties for some of my clients in the $2+ million range there were almost no listings at this price point in January. Luxury listings were also almost non-existent.
With none of these properties available for sale, most of what did sell was in the $500,000 – $1,500,000 price points which I have a feeling dragged down that average sale price in the 416.
Final Thoughts
As I mentioned earlier, I think we'll have to wait until after March Break before we see a sizeable influx of new listings.
The recent Bank of Canada announcement pausing the policy interest rate for the time being will likely play a big role in the rest of the spring market. Stabilization and predictability in lending rates is going to be key for any level of normalcy.
Alright, that's all I got for my first update of 2023!
As always if you have more specific questions, need advice, or want to talk about what I'm seeing out there, get in touch. I'm always happy to talk shop!