Bank of Canada hikes key interest rate 100 basis points
Ouch, the Bank of Canada just raised their key interest rate 100 basis points from 1.5% to 2.5%. A hike of this size hasn't happened since 1998. For context, pre-pandemic interest rates were at 1.75%.
The last time rates were over 1.75% was in 2007 before the financial crisis where they sat at 4.25%. What's different with this rate hike cycle compared to 1998, is the reason behind the rate hikes. Inflation.
The last time there were rate hikes to control runaway inflation was all the way back in the late 70s and early 80s.
Tiff Macklem (Governor of Bank of Canada) claims this unprecedented hike is "front-loading" to help tackle inflation faster so this doesn't drag out and gives us a better chance for a "soft landing". Well according to my research this is complete BS.
South Korea and New Zealand Central Banks (among others) saw the writing on the wall with inflation reports and started raising interest rates in summer (South Korea) and fall (New Zealand) 2021. While today, they are sitting at the same interest rate as us (2.5%), they raised more gradually over a longer period of time, giving consumers more time to adjust. We didn't start until April 2022. This isn't front-loading–it's catchup.
Looking at the chart below, the Bank of Canada had 4 meeting opportunities to start with smaller rate increases (or apparently 100 basis points if front-loading truly is their strategy). They didn't start raising until the US Federal Reserve did in March 2022.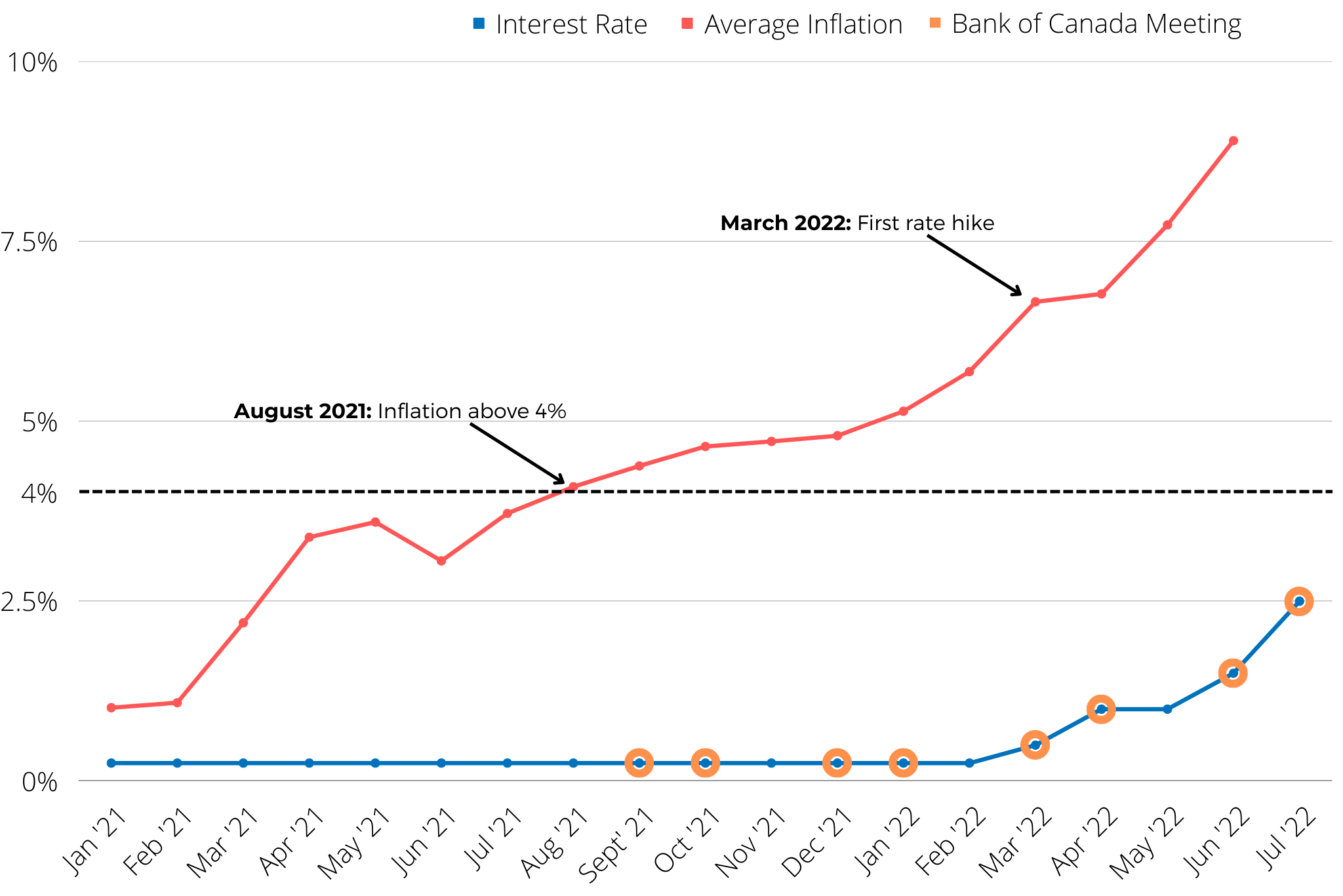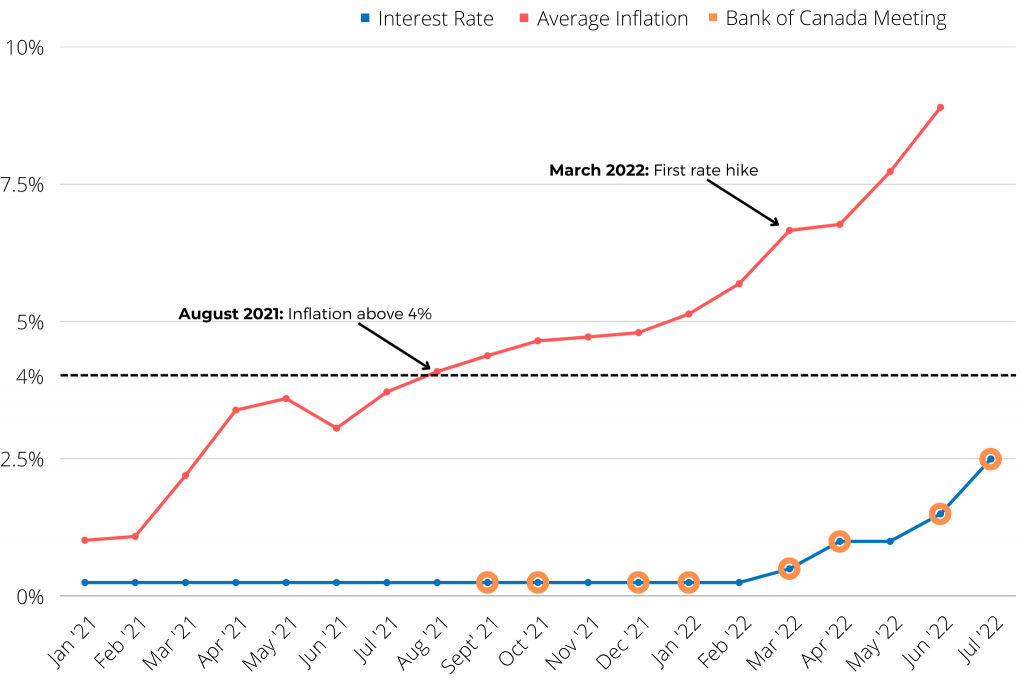 Considering we have the worst household debt of all G7 countries by a wide margin (~40% higher than the US), we are much more sensitive to such aggressive rate increases (source: betterdwelling.com).
I've confirmed this speaking to some of my peers in the banking and mortgage industry. Because the Bank of Canada was so slow to react, rate hikes are likely to last until at least early 2023 with three more opportunities for them to be raised between now and the end of the year.
September 7th, 2022
October 26th, 2022
December 7th, 2022
We'll likely end up somewhere around 3.5%, but I've heard some say as high as 4%. This would push fixed mortgages rates up to 6-7% by the end of the year (potentially higher).
SIDENOTE: My mortgage broker mentioned that policy makers are discussing temporarily bringing back 40-year amortizations. These haven't been around since before the 2008 financial crisis. These would act to help reduce monthly mortgage payments by spreading them out over a longer term.
Interests Rates vs the Toronto Real Estate Market (1996-2021)
Toronto Real Estate has been in a bull market since 1996. The only year where there was a decline was 2018 (more on that later). As I mentioned earlier, the last time we saw interest rates of 2.5%+ was between 1996-2007 where the interest rate averaged ~3.8%.
During that decade, home sales prices rose 6.6% on an annualized average. The highest interest rate between 1996-2007 was 5.25% in 1998, and that year saw a 2.6% appreciation.
In the decade plus following (2008-2021), interests rates hovered at or below the 1% mark. Average year-over-year growth in the Toronto real estate market during this decade was ~8%.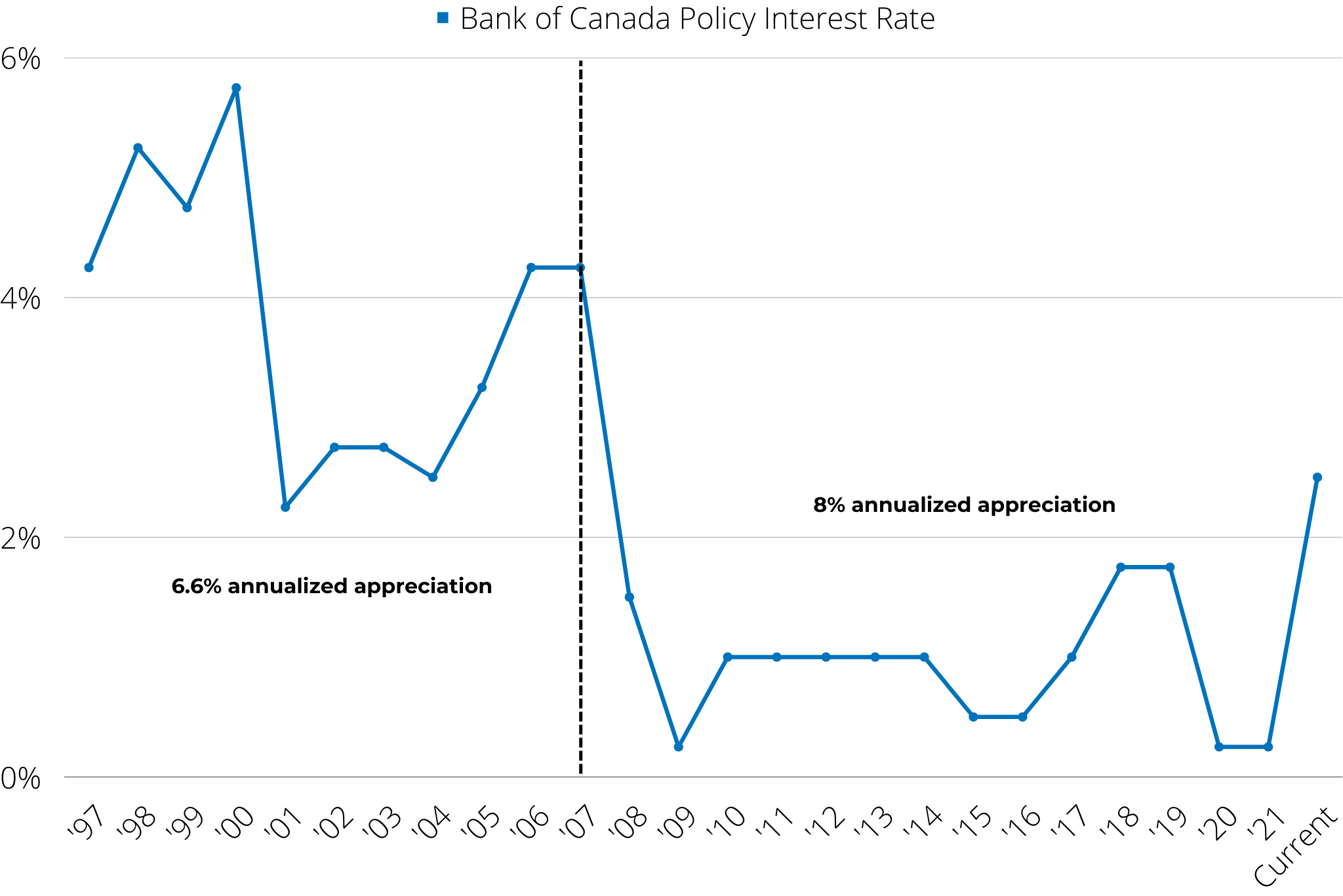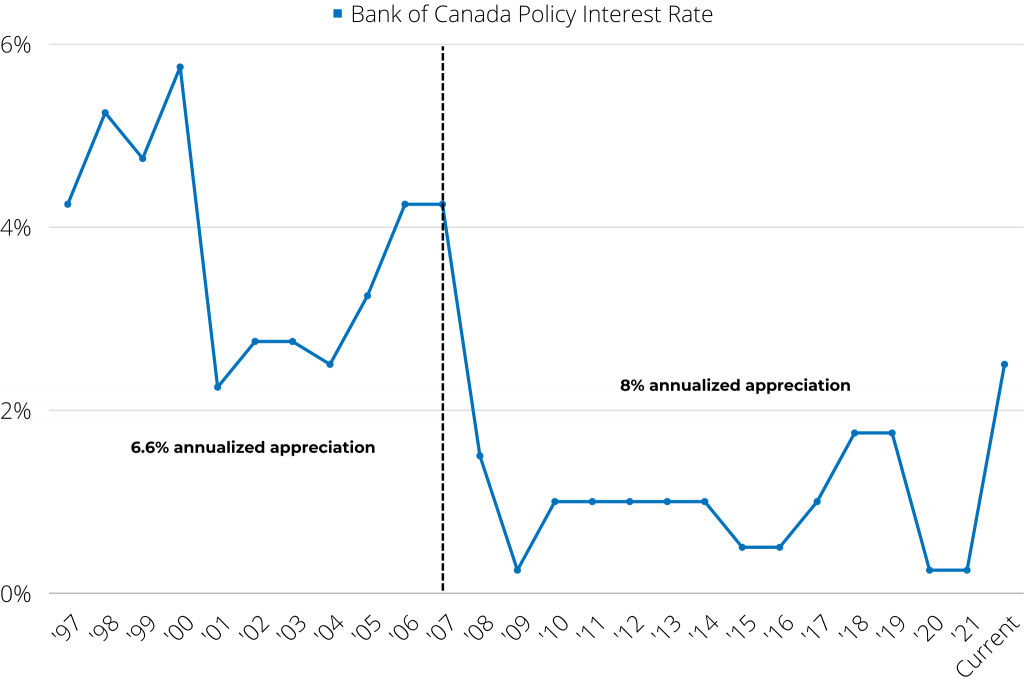 The Toronto real estate market has produced strong returns over the last 20+ years, regardless of interest rate conditions. Will this time be the same?
What happened in the decline of 2018?
In 2018, The Bank of Canada started to raise the policy interest rate above the 1% mark for the first time since 2007. This caused a -4.2% decline in the Toronto Real Estate market. By 2019 (before the pandemic started) the market had almost completely recovered, gaining 3.9% by Q4 of 2019. The market got used to the higher interests rates. A lot of buyers sat on the sidelines waiting for an epic crash, and some missed out on the chance to buy when competition was low.
Even those that bought at the peak in 2017, completely recovered by Q4 of 2019. Had they bought in 2016, they would still be looking 8% appreciation even with the 2018 decline. Could the decline be bigger and longer this time? Sure, but the pandemic peak has already passed. If you're planning to buy and hold a property for the long term, trying to time the bottom is a risky move based on the competitive nature of the last 20+ years.
Couple that with the fact that demand will likely outpace supply for the foreseeable future (we've had back-to-back record years for immigration) either rents are going to skyrocket, or housing will recover. People have to live somewhere, and we still have a supply issue.
The Upcoming Mortgage Crunch
Pressure on variable rate mortgages
There are two categories of variable rate mortgages:
Capped Variable Rate Mortgage
This type of mortgage comes with a slightly higher interest rate (still less than fixed), and keeps your payments the same. As the policy interest rate changes, the amount of your payment that goes towards your principal vs interest changes.
If the policy interest rate increases enough, the bank will be forced to increase your payments, because there is a threshold of the portion of your payment needs to be applied towards principal (called the "trigger point"). This could put some people in a tricky situation where the bank is forced to increase their payments, and they have no choice but to sell. Extra inventory in a market that doesn't have very high demand in the short-term could drive down prices further.
Adjustable Variable Rate Mortgage
With this type of mortgage, when the policy interest rate changes, your payments change. The idea here is that you are always paying your principal down on schedule, but the amount of interest you pay fluctuates on each payment as rates change.
These types of variable rate mortgages could also have the same affect as above.
SIDENOTE: This is the type of mortgage I am on, so I am definitely feeling the pain, but when interests rates go down you get to take advantage of the lower rates.
Renewing mortgages in 2022 and 2023
People who locked into 5-year mortgages in 2017 and 2018 will be renewing this year and next. In 2017 RBC's 5 year fixed rate was 3.39% and 3.89% in 2018 (source: rates.ca). Their current rate is sitting at 5.34% as of writing this article.
Desjardins' latest mortgage rate forecast predicts 5-yr fixed rates could hit 7% by the end of 2022.
With the Bank of Canada's policy rate likely to be at least 3.5% by the end of the year, variable rates would be upwards of 5% at renewal (RBC's currently sits at 4.380% as of writing this article).
Coming into renewal with rates at 5 – 7%, regardless of choosing fixed or variable, could be a big shock for some people's finances–potentially forcing some to sell.
SIDENOTE: Going from a 3.5% interest rate to a 7% interest rate does not double payments as some people believe. It would likely result in a ~30-40% increase depending on the size of the mortgage and amortization period.
As I mentioned
Summary
Bank of Canada should have started raising interest rates much earlier
The policy interest rate (2.5%) is now higher than pre-pandemic (1.75%)
The policy interest rate is above 2% for the first time since 2007
The policy interest rate will likely be 3.5-4% by the end of 2022
5-year fixed mortgage rates could go as high as 7% by the end of 2022
The last time interest rates were raised (2018) the Toronto real estate market declined 4.2% and recovered within 1 year.
Homeowners with renewing mortgages in 2022 and 2023 could see interest payments increase as much as 30-40% compared to their current ones. May force some to sell, increasing supply which could put downward pressure on prices.
(If you've got questions, or just want to talk about what I'm seeing, get in touch).