Summer is finally here and that typically comes with a slow-down in the Toronto real estate market. Whether it's people being away on vacation, kids being out of school making it more stressful for some to list their homes/find time to search for one, or people just wanting to relax and enjoy the nice weather. There are multiple factors as to why this occurs.
That being said, the start of this summer market has felt a little different this year. There's still some intense competition amongst buyers, which could tail off in the next few weeks, but from experience speaking to the motivation of my own buyers, and those of my colleagues, I wouldn't be surprised if this spring market stayed hot for a little longer. Even with the recent rate hike, it's still a supply/demand issue which I'll discuss below.
Key Developments
Inventory is still very low relative to buyer demand
Bank of Canada (BoC) policy interest rate is up 25 basis points from 4.5% to 4.75%
The next Bank of Canada interest rate meeting is on until July 12th
CPI inflation rose to 4.4% in April from 4.3% in March. May's numbers won't be out until June 27th, impacting whether BoC decides whether to raise rates again or not.
US Federal Reserve held rates in June but said they may hike at least two more times this year
May TRREB Stats
Average Sale Prices
TRREB Housing Prices continued their steady ascent from the start of 2023. If we compare the average sale price year-to-date from January 2023 to May 2023, the average sale price has climbed ~15% across all TRREB, and 21% in Toronto (see table below)
TRREB Average Sale Prices Year-to-date (All Property Types, January 2023 to May 2023)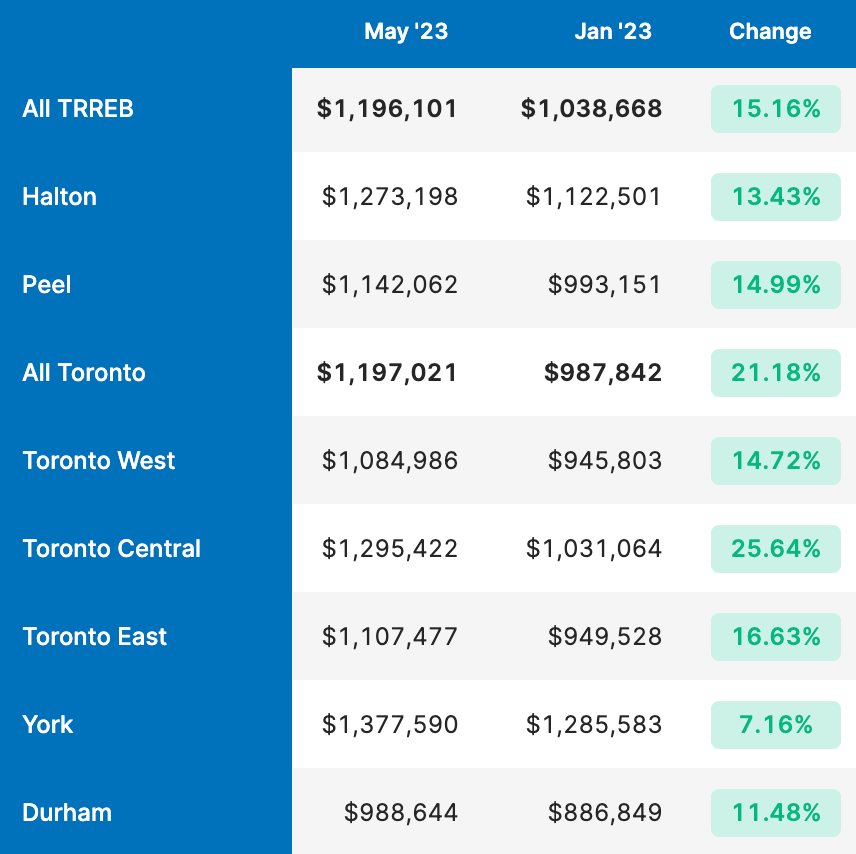 That is a massive increase in just 4 months! For context, from January 2021 to May 2021 during the pandemic when the market was going crazy, the average sale price increased ~14% across TRREB and ~28% in Toronto (see table below).
TRREB Average Sale Prices Year-to-date (All Property Types, January 2021 to May 2021)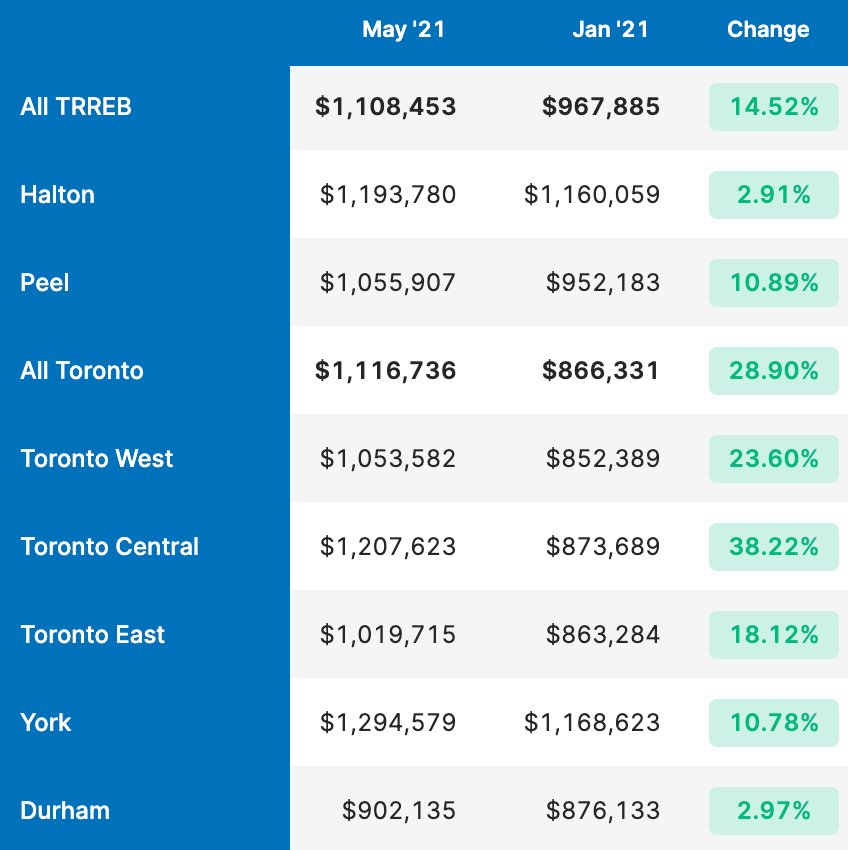 Keep in mind that in 2021 the market had the advantage of near-zero interest rates. You would think we'd be moving in the opposite direction considering we're in a high-interest rate environment today, but the market is just seeming to shake it off…
Sales and new inventory can help explain what's going on here.
Sales and New Listings
If we look at year-over-year sales for May 2023 vs 2022, we can see that we had quite a big increase at 23.7% across TRREB with 9,012 sales in May 2023. You'll have to take my word for it here that ~9,000 is in the normal range for a typical May.
TRREB Sales Year-over-year (All Property Types, May 2023 vs May 2022)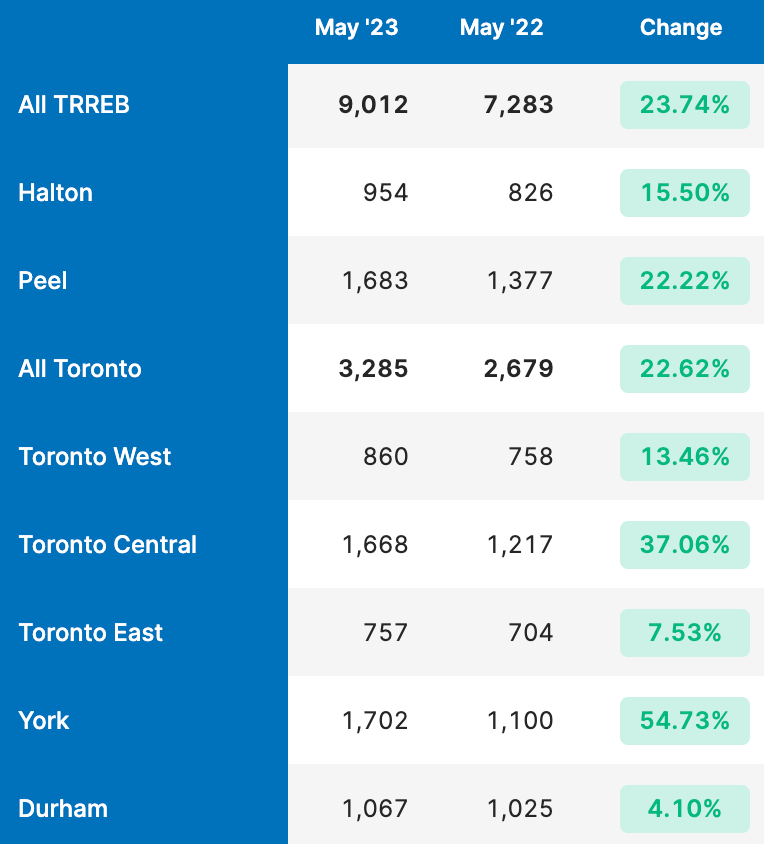 The reason prices are rising is that while sales are in the normal range, new listings are not. If we look at the table below we can see that new listings are well down year-over-year at -18.7% across TRREB at 15,194. The problem here is that over the last 5 years, New Listings in the month of May have consistently been above 18,500 (with the exception of 2020 during the beginning of the pandemic).
TRREB New Listings Year-Over-Year (All Property Types, May 2023 vs May 2022)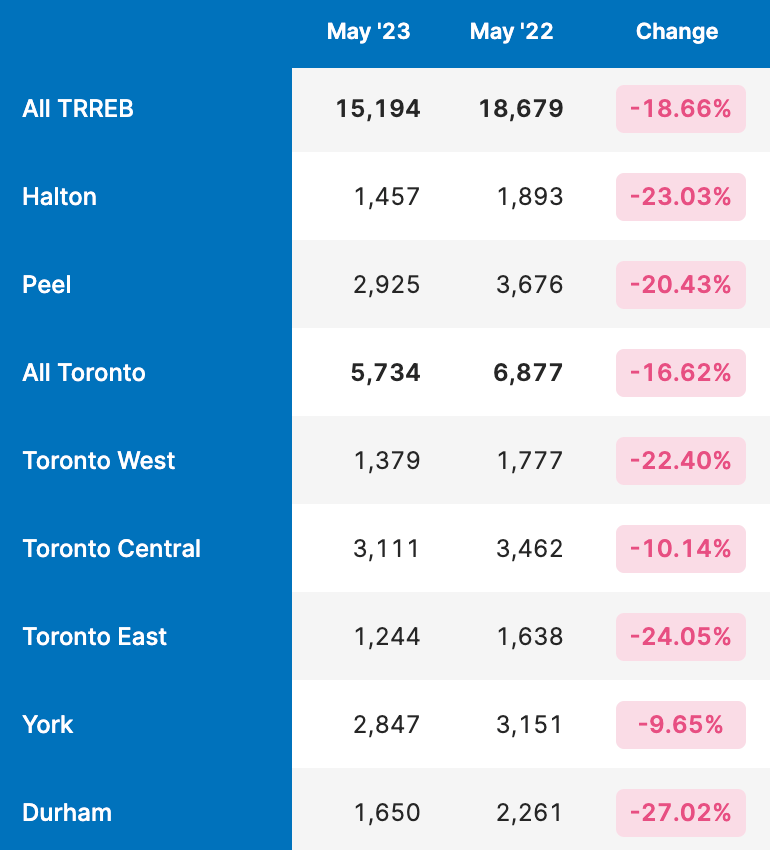 So we've had a typical May in terms of demand at ~9,000 sales, but a below-average May in terms of New Listings with ~3,500 less than normal.
I don't want to bore you with too many tables, but this exact same trend happened in March and April this year.
Demand is strong

We've had average sales for 3 straight months when comparing them to the same month in the previous 5 years

Supply is historically low

We've had below average new listings for 3 straight months compared to the same month in the previous 5 years
And what happened over those last 3 months?
February 2023 to March 2023

Average sale price increased 1.9%

March 2023 to April 2023

Average sale price increased 4%

April 2023 to May 2023

Average sale price increased 3.6%
Supply and demand is a strong market force, regardless of economic conditions.
Final Thoughts
We just had an interest hike, and there is a definite possibility there could be another one in July before the Bank of Canada breaks until the fall market in September. Average sale price almost always falls in July and August historically, so I don't really factor that data in when I'm trying to gauge where I think the market is going in the fall.
The interest rate hikes could do something to slow the growth, but we probably won't know until we get September's data (a long way off I know). That being said, the June TRREB stats might give us some indication of whether or not buyers shrugged off the most recent rate hike.
At the end of the day, the new housing supply isn't keeping up with population growth and that puts pressure on prices.
As always if you have more specific questions, need advice, or want to talk about what I'm seeing out there, get in touch. I'm always happy to talk shop!