Is the Toronto real estate market bouncing back? Have the lows in the market come and gone? Read on to find out!
Key Developments
Inventory is still low, compared to Q1 2022, but sales are up 60% month-over-month showing a significant increase in market activity.
Bank of Canada (BoC) held the policy interest rate at 4.5% after 12 months and 8 consecutive meetings with a rate increase
Next Bank of Canada interest rate meeting is on April 12th
CPI inflation currently sits at 5.9% down from 6.3% in January. The next inflation report is on March 21st
Aimee's Experience
If you've been reading my monthly updates, you know that I've been talking about pent up buyer demand since October 2022. There have really been 2 Buyer mindsets over the last few months:
Those waiting for prices to drop further
Those looking to jump in now while prices and competition are softer
The thing is, it hasn't really mattered up until February which camp you were in. Inventory has been at historic lows for months and there was little to nothing to buy even if you wanted to!
My gut has been telling me that if we just got just a little more quality inventory we'd have a strong spring market. Based on the latest TRREB stats for February, and the offers nights I've been tracking throughout the month, we're starting to see that play out.
Offer Nights Are Making a Comeback
I've tracked 93 offer nights in Toronto since the start of 2023. As far as I know I'm the agent one crazy enough to do this 🙂. Here are some highlights
15 (16%) attracted 10+ offers with the average being 14, and the highest being 25

1 didn't sell, 1 sold conditionally
The rest sold for an average of 129% over list price!
All of these were Freehold homes


33 (35%) attracted 4-10 offers with the average being 6

2 didn't sell
The rest sold for an average of 114% of the list price!
Only 1 of these was a Condo, the rest were Freehold. It was listed at $499k which is always going to attract offers


The remaining 45 averaged 2 offers

21 didn't sell, 6 of which got no offers
24 sold, for an average of 106% of the listing price
For the most part, the homes that didn't sell were priced poorly, didn't present well (bad staging and photos) or were in less desirable areas. Semi-detached and detached homes are attracting the most offers, while Condos aren't getting as much love on offer nights.
The reason I track these offer nights is because it is the earliest indicator where the market is moving. For example, if quality properties all of the sudden stop getting 4+ offers on offer nights, it gives me a strong signal that the market is pumping the breaks and lets me quickly pivot strategies for my clients.
We haven't seen offer nights like these since early 2022, which indicates that the market is starting to shift back in seller's favour. Those who were waiting on the sidelines hoping to see prices drop further might want to reconsider their position. 
The February TRREB stats further support this rise in activity and competition. My gut and experience is telling me we may be in for at least a short-term bull run in March and April.
February TRREB Stats
I'm mainly going to be covering month-over-month stats here, because what's happening today is more important than what happened last year.
The trend for the last few months of 2022 was slow sales, low quality inventory and a few months of stabilization in average selling price.
January saw really slow sales due to continued low quality inventory. Well, February turned that around.
Sales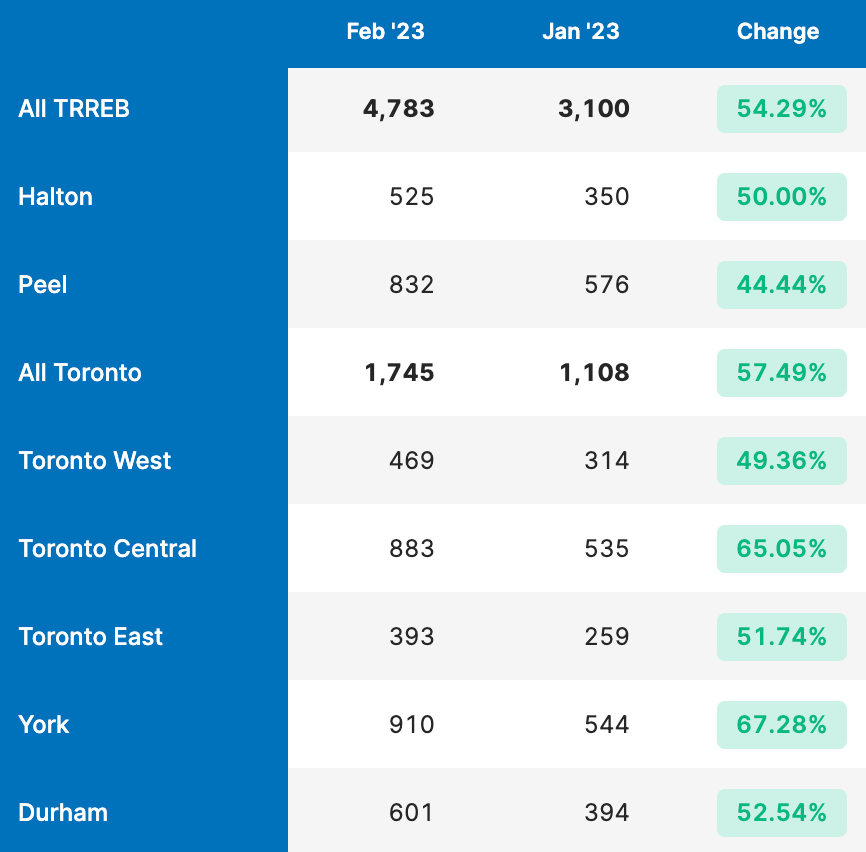 A 54% month-over-month increase across TRREB is significant. Toronto is slightly above that at 57.5%, while Central Toronto saw 65% gain. That is a major increase in activity.
The thing is, I would have thought this move would have been triggered by a large increase in new inventory. While there was an increase in new listings from January, it was nowhere near enough to support the increase in sales we saw.
New Listings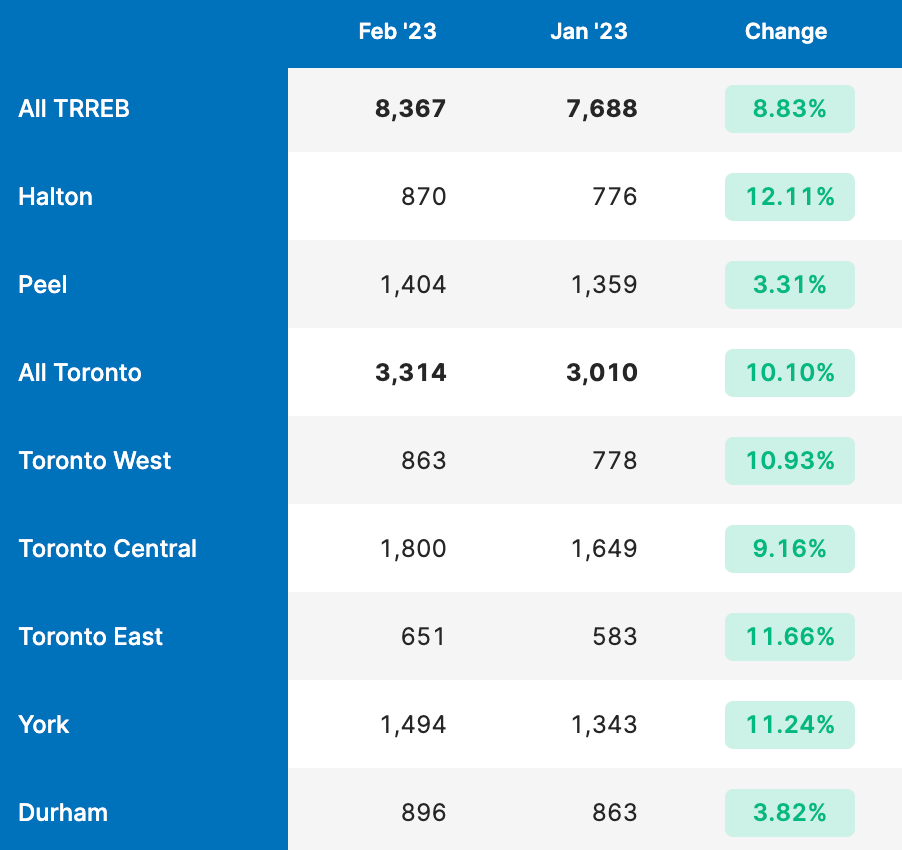 An 8.8% increase in new listings across TRREB, and 10% in Toronto. So if sales are way up, but there isn't a big leap in inventory what's happening?
I think the market is finally catching up to what I've been saying for the last few months. We're unlikely to see lower lows. And what does that do to Buyers? Brings them off the sidelines, increasing competition in a market where supply hasn't caught up.
Properties are selling much quicker too, look at the average days on market. Significant drops across the board.
Average Days on Market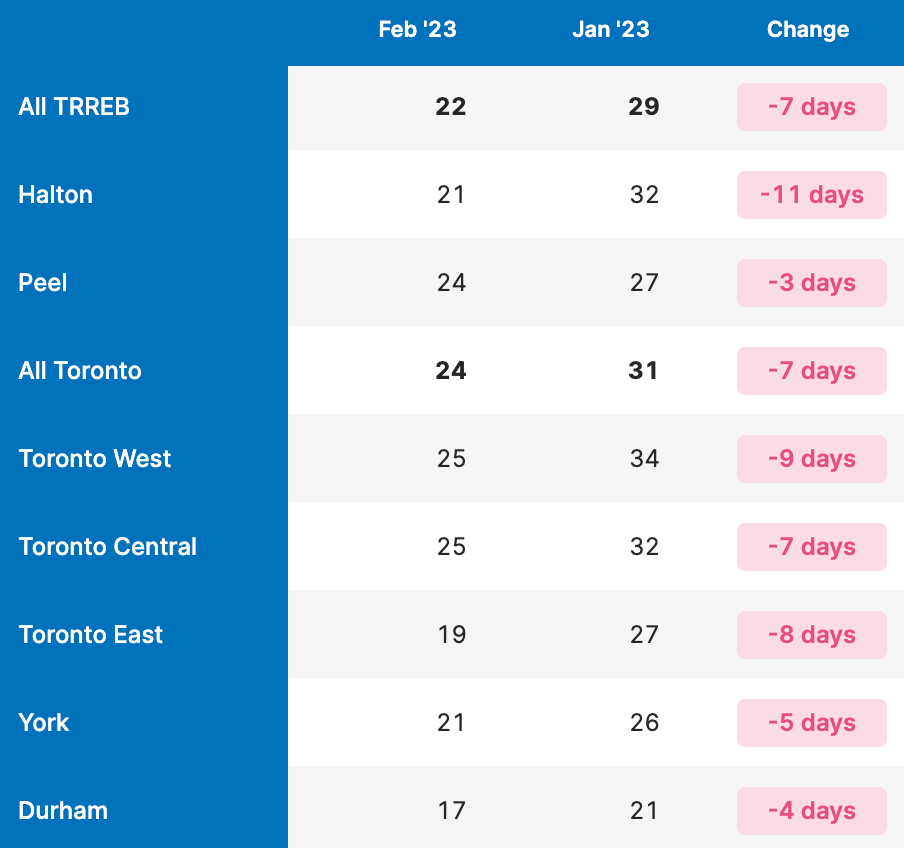 Increased buyer demand, low inventory, more offer nights, all of this is feeding to a noticeable rise in prices.
Average Sale Prices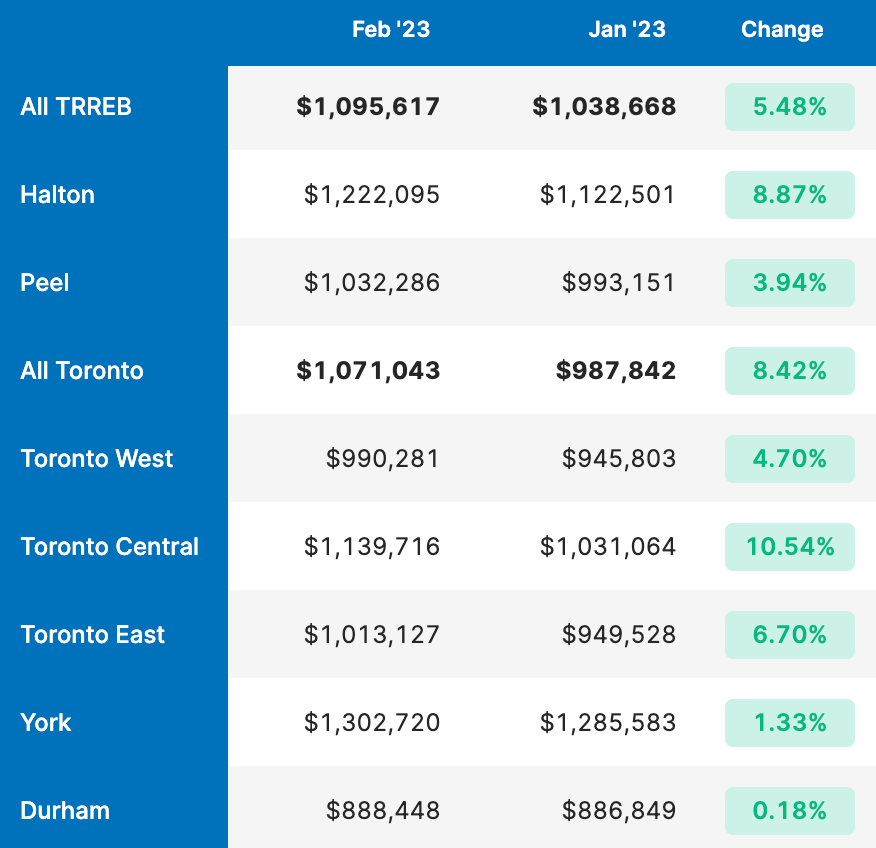 Average sale prices across TRREB are up 5.5%. For context, in early 2022 we were seeing insane month-over-month gains of 7.3% in January, and 7.6% in February when the market was the craziest I've ever seen.
5.5% isn't that far off.
If we look at Toronto specifically, that number is even higher at an +8.4% month-over-month lifted mainly by Central Toronto.
Toronto Average Sale Price, All Property Types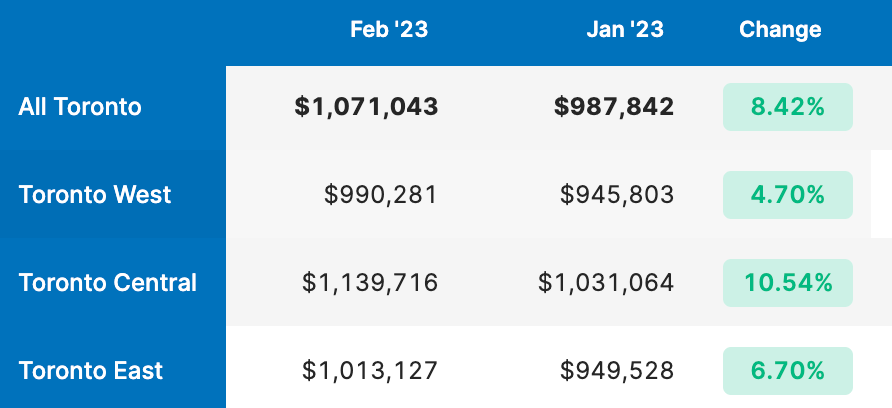 Most of these increases are being driven by demand for Detached and Semi-Detached homes.
Detached – Toronto Average Sale Price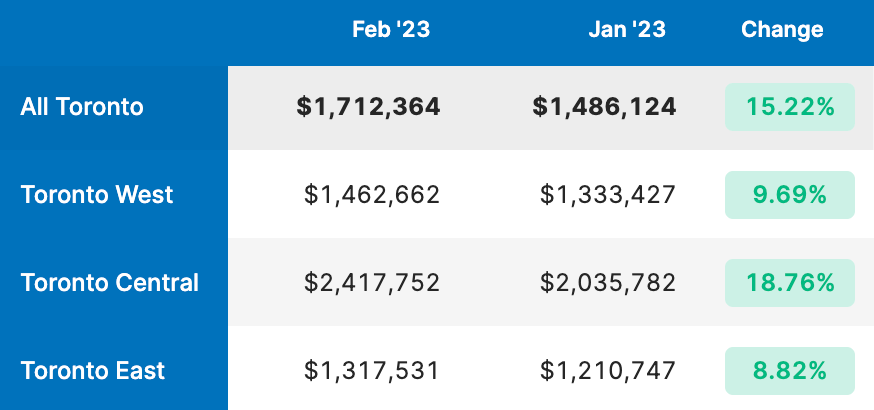 Semi-Detached – Toronto Average Sale Price
As I mentioned, Condos aren't as in demand right now. That being said, Condo prices in the West End did see a 7.5% increase.
Condo – Toronto Average Sale Price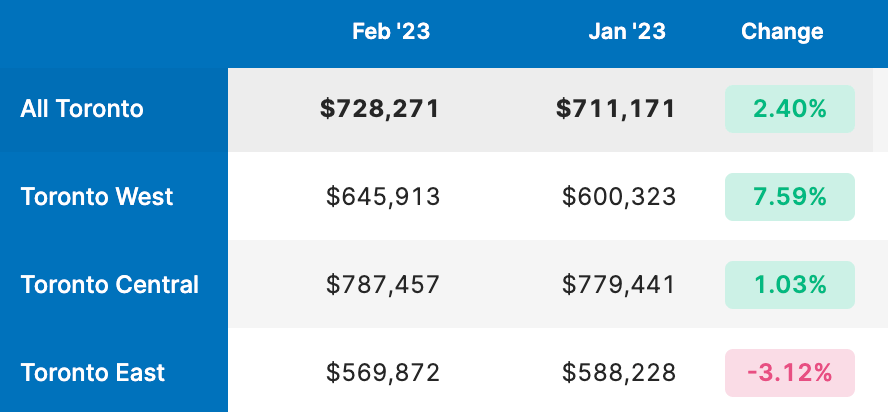 Final Thoughts
The market conditions are ripe for a bull-run (over the short term at the very least). This is not based solely on the February TRREB stats, this is from my experience in Toronto's market. The data is just finally starting to support what I'm seeing and feeling on the ground.
The Bank of Canada pausing interest rates for the first time in 12 months will only add fuel to the fire.
I expect a good chunk of inventory to hit after March break, when we could see even more significant increases in activity.
As always if you have more specific questions, need advice, or want to talk about what I'm seeing out there, get in touch. I'm always happy to talk shop!