The fall market is almost upon us, and we finally started to get some good news about inflation in July. Both the US and Canada reported their first declines of inflation since their Central Banks started aggressively increasing interest rates earlier in 2022. While this is a positive sign, inflation is still very high at 7.6% in Canada, so a small decline is not going to stop the Bank of Canada increasing rates again on September 7th.
As interest rates continue to increase, we should expect to see continued downward trends in both number of sales, and prices across TRREB as we move into September.
Let's do a deep dive into what happened in July.
July TRREB Stats
The total number of sales across all of TRREB in the month of July was 4,912. Here is the year-over-year breakdown:
Number of Sales Year-over-year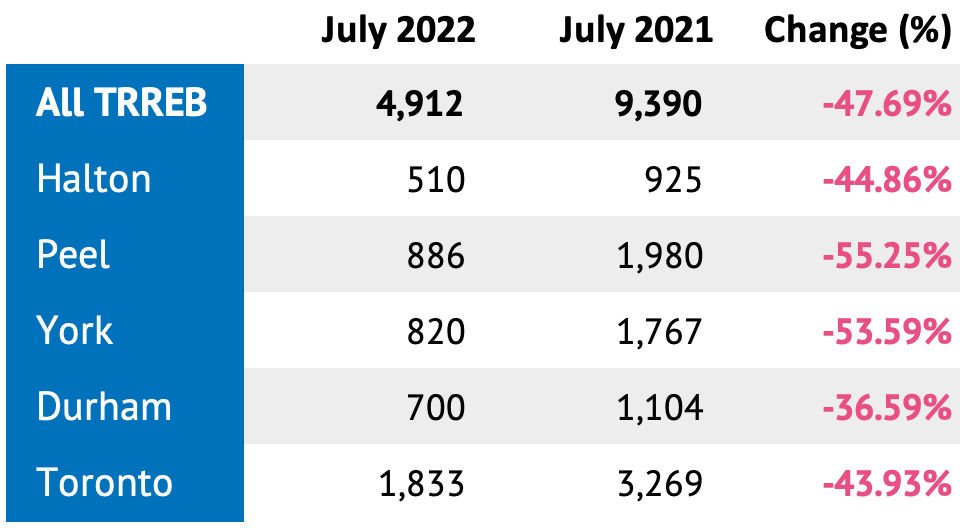 4,912 sales is a significant number. Why? Historically, we typically only see fewer than 5,000 sales in a month in December or January, when the market is usually slowest.
If we exclude the months December and January, there have only been 5 months since 2002 that sales fell below 5,000 (and two of those months were at the start of the pandemic). That means this is only the third time this has happened since 2002.
It's rare, and shows just how significant an impact inflation and interest rates are having on market activity. A -47% decline in sales illustrates that buyers and sellers are being affected by the market conditions, and it may take until the Bank of Canada stabilizes interests rates to turn things around.
Number of Sales Month-over-month
This June to July we saw a -24% decline in market activity (which is significantly higher than usual for this time of year). Yes, we typically see larger declines as the summer kicks off, but it's usually in the single digits.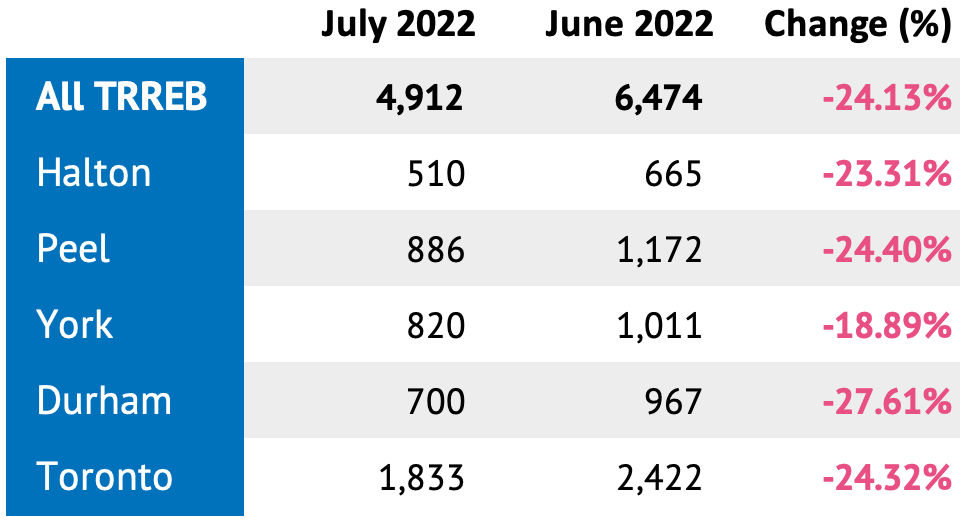 No matter how you look at it, buyers aren't active (and it isn't for lack of inventory). There are 57% more listings on the market than July 2021 and a 120% increase since the market peaked in February 2022. Supply is high, demand is low and that has an impact on prices.
Average Sale Prices
Sale prices are down across all of TRREB. I want to talk about where prices are at currently vs some historical points in the last few years.
Since the peak of the market in February 2022, the average sale price across TRREB has dropped between 15-27%.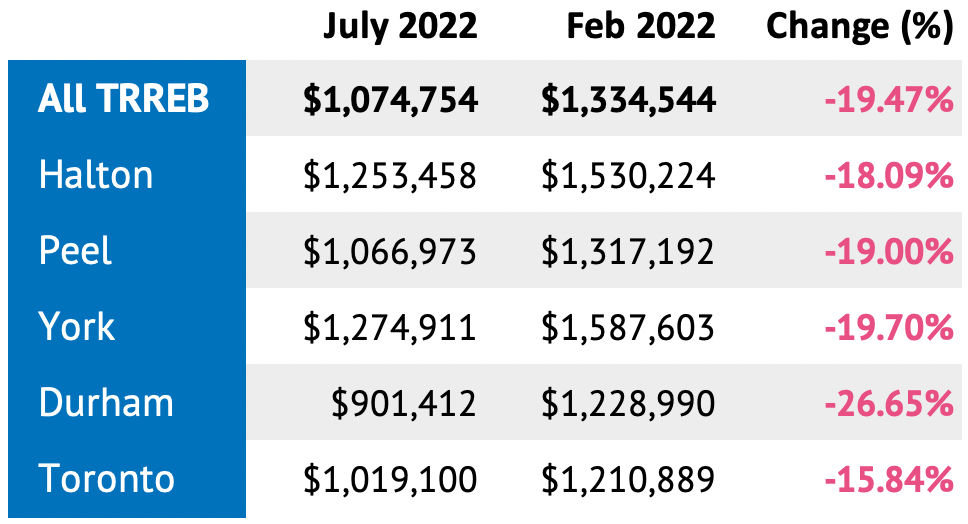 Durham has seen the steepest drop of almost -27%, where as Toronto has seen the least at just under -16%.
The range in declines seem to be directly correlated to how much each area appreciated during the Covid pandemic. The more the appreciation, the more aggressive the pull back.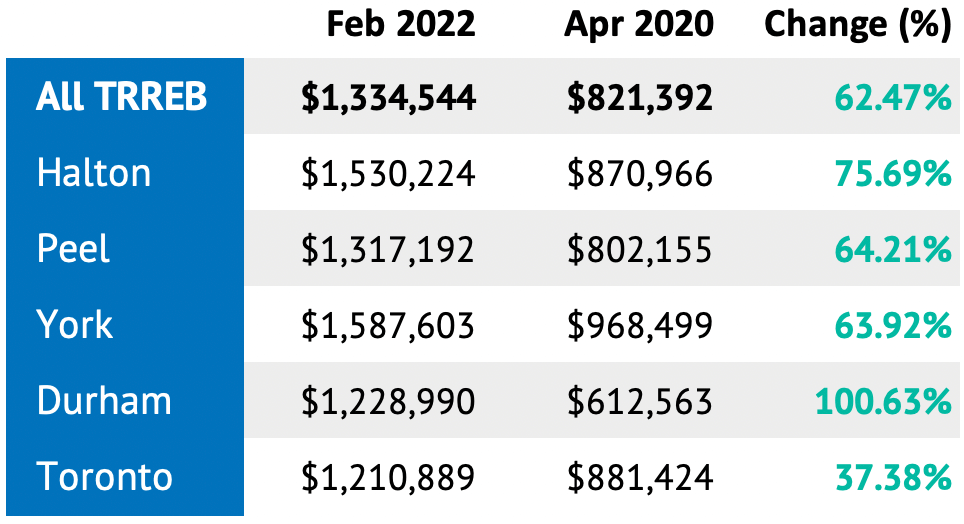 Prices across all of TRREB went bananas during Covid, but the areas surrounding Toronto were absolutely insane. Durham had a 100% increase in average home value in just 2 years!
It stands to reason that Toronto with the least appreciation (though still substantial) would have less pull back, and Durham would have the greatest as it was the most overheated.
Despite the recent declines, prices have appreciated quite well since the start of the pandemic as illustrated in the table below.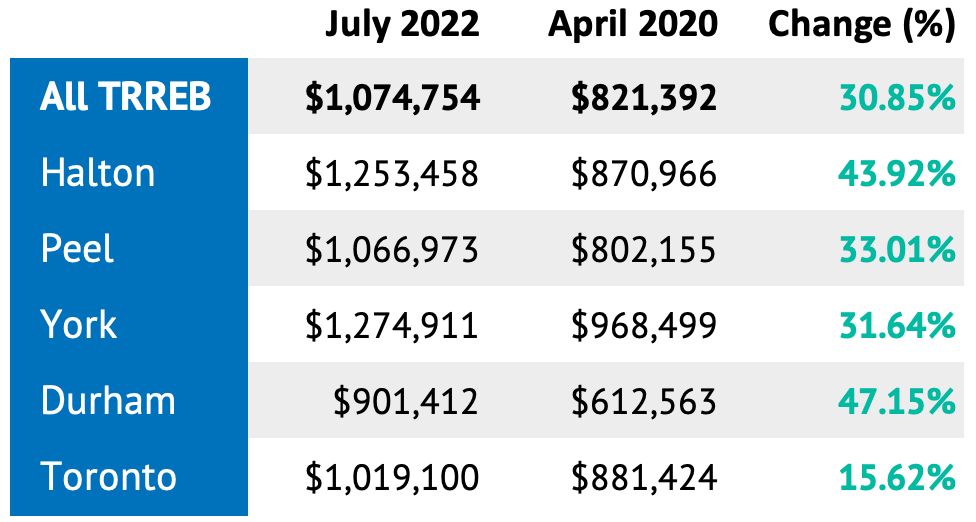 However, the recent declines have basically wiped out all appreciation from 2021 and early 2022.
Average Sale Price Month-over-month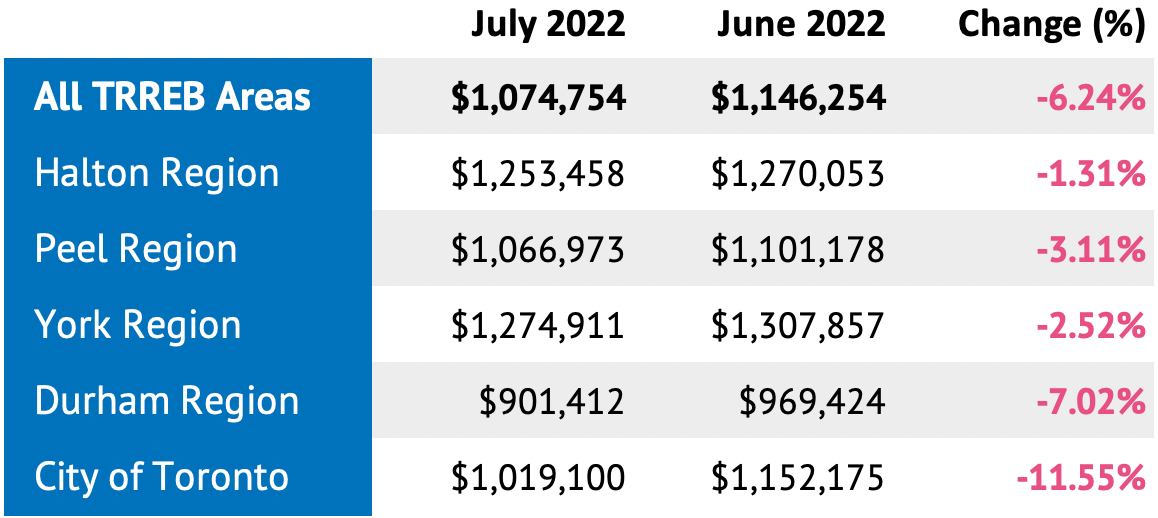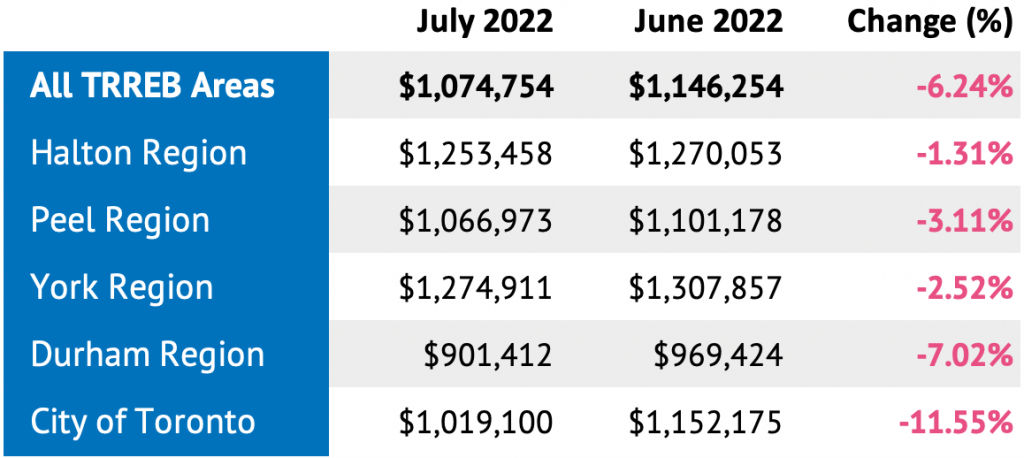 Prices have continued to decline since June, with the greatest in Durham (-7%) and Toronto (-11.5%). I'm not shocked that Toronto had the greatest drop, as it seemed to be lagging behind the rest of TRREB which is illustrated in the table below.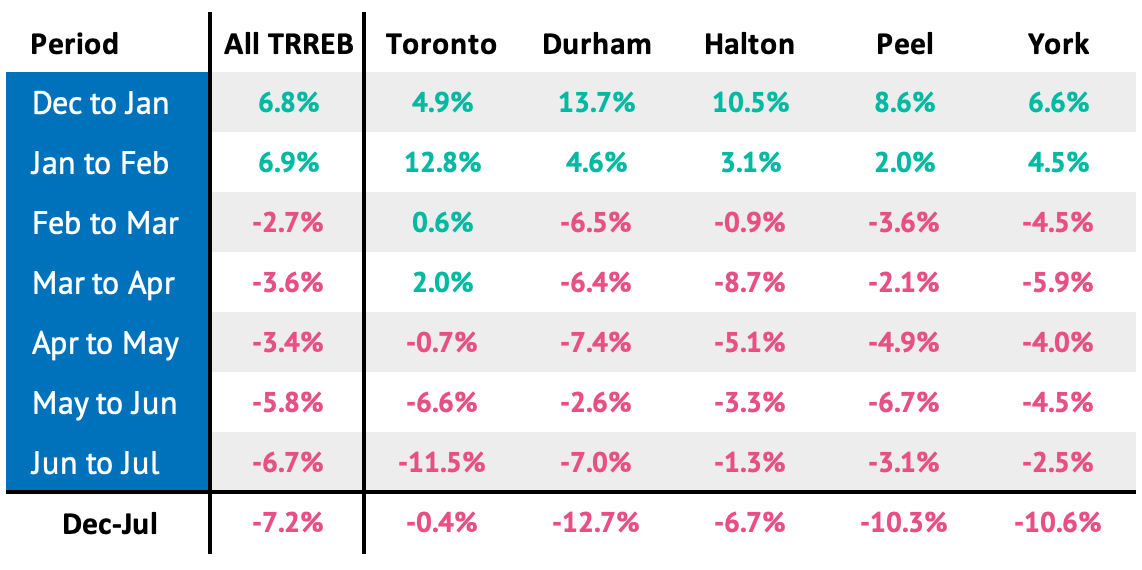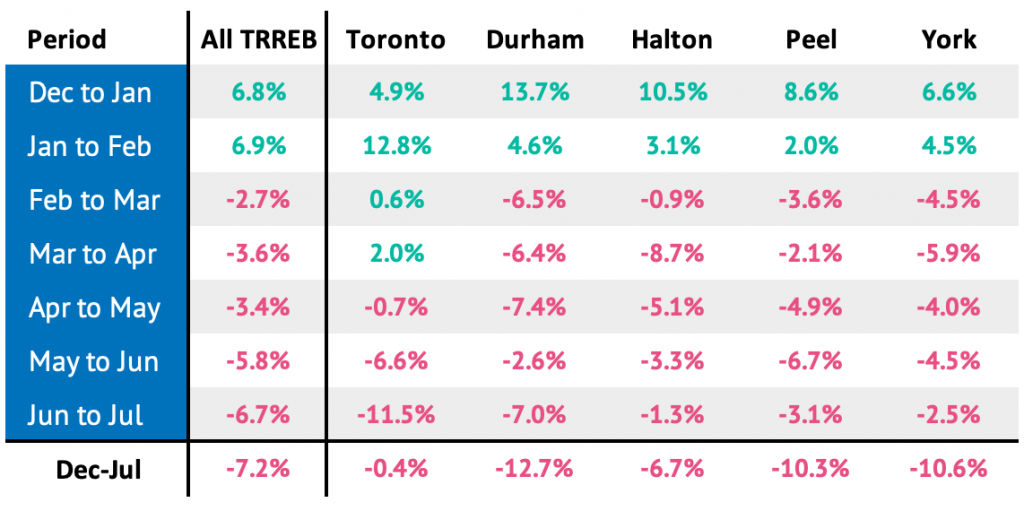 As you can see above, Toronto was a little more resilient at the start of the correction, still seeing some appreciation in March and April before the Bank of Canada started aggressively increasing interest rates around that time.
Toronto has faired a bit better than the surrounding areas year-to-date, but depending on when you bought or sold is really the determining factor when it comes to appreciation/depreciation.
My Thoughts
We're definitely weighted towards a buyer's market right now, however, even those with a desire to purchase are finding it difficult to qualify for a mortgage.
With the Bank of Canada set to hike up interest rates again on September 7th, I think it is very likely we continue to see a week-over-week decline in prices as this puts even more pressure on mortgage qualifications and renewals.
Related post: Interest Rates, Inflation & Toronto Real Estate Prices
TRREB will release their stats for August in the first week of September, and I expect that to show further depreciation in prices, and declines in number of sales. In August I'm seeing a -1.5% decline in prices per week in August (approximately).
As I said earlier, it's likely that until the Bank of Canada gives a clear indication that they will stabilize interest rates or start to reduce them, we can expect the above trends to continue across the GTA (though perhaps less aggresively). The market likes stability.
(If you have questions, need advice, or want to talk about the shift in the market, get in touch).